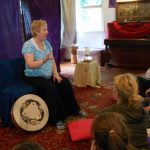 I sat on my Papa's knee while he recounted his adventures, both real and imagined, and have loved listening to, and telling, stories ever since so it is not surprising that I am now a professional storyteller (who was once a teacher) based in Ayrshire.
I enjoy sharing the stories I have collected from many cultures and countries over the years.
My repertoire contains adaptations of traditional Scottish tales, fairy tales, myths, legends, creation tales and local (Ayrshire/Glasgow/Scottish) stories as well as some true/family/historical stories which are suitable for a wide range of audiences – from pre school children to senior citizens, sometimes even in the same session.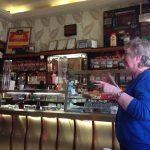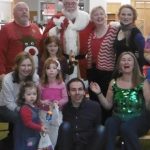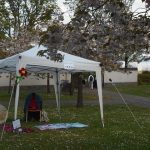 As a parent, I discovered the power of stories to allay fears, teach life skills and build confidence and so my tales frequently contain underlying messages to promote compassion, friendship, reconciliation and to help develop life skills, social skills and problem-solving.
"Betty is a natural teller, and is always at ease with herself and the story material she chooses."
Frances Logan, Even Better Crack Club
My quirky humour and caring nature provide a nurturing environment to encourage participation in workshops tailored to suit a wide range of ages and abilities.
I am particularly skilled at building confidence and developing language skills in both children and adults.
"Betty had her audience laughing with one story and tears with the next. She is very connected to her audience."
Julie Neale, Emerson College
I have told stories and run a wide range of workshops in schools, museums, libraries, church groups and care homes, as well as in castles, fields, woodlands, on trains, and in cafes.
"she brought warmth and character to everything she said and did and her endearing personality shone through."
Neil Packham, Community Drama Director, Citizens Theatre, Glasgow.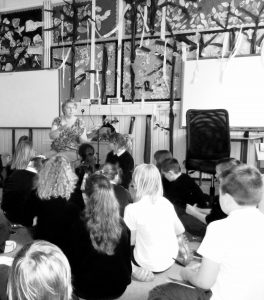 I have many years' experience of working in schools, enhancing curriculum subjects for students and training teachers in storytelling skills.
"The workshops ensured children were meeting all four capacities and the planning of the activities included all seven principles of ACE."
"Mrs Skelton is not only a fabulous storyteller but a very talented facilitator of storytelling."
Louise Muir, Principal Teacher, Hillhead Primary School
I have experience of sensory storytelling for people with multiple and profound learning difficulties.
"Betty has a sunny disposition and a fun and quirky way with her stories and always made the children (and the staff) smile."
"Betty was more than comfortable communicating with children in wheelchairs, non-verbal children, working with challenging behaviour and encouraging and incorporating each individual into her stories."
Norma Crawford, Team Leader, Quarriers, The Butterfly Club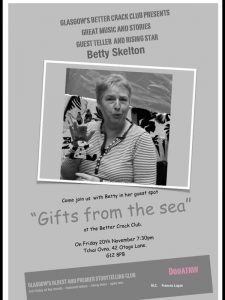 I am a frequent teller at the Better Crack Club in Glasgow.
"In all her storytelling she draws you into the enjoyment of it, inviting you to delight in it too – whatever your age."
A.P., Better Crack Club
I am very keen to take storytelling to new audiences and willing to travel (almost) anywhere.
In 2009 I received an SQA level 7 certificate in Contemporary Oral Storytelling.
I have a basic disclosure and I am a member of the Scottish Storytelling Directory.
"shared some truly beautiful and compelling stories"
"captivating and inspiring"
Claire McCracken, Glasgow
Betty Skelton
Storyteller
Ayrshire, Scotland